Invisalign® Clear Aligners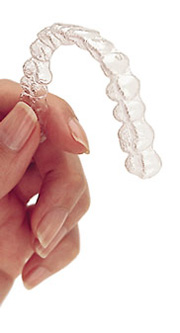 Brilliant | Rothenberg Orthodontics is an Elite Premier Provider of Invisalign, with years of experience and training in using clear aligners to achieve amazing smile results. We're here for you 24/7 to ensure you have the best experience possible. Plus, if you're out of town or unable to visit the office, we offer tele-dentistry and can ship your new sets of aligners right to your front door!
Invisalign is a clear, removable appliance used to correct malocclusion and imperfect bites, and create an aesthetic smile. Just like traditional braces, Invisalign aligners use gentle force to shift teeth into their proper positions, but unlike braces, they're nearly invisible!
Invisalign aligners are:
Removable, so you can brush and floss easily
Clear, to encourage you to smile more and feel confident while wearing them
Comfortable, since there are no metal brackets or wires
Easy to clean, so your oral hygiene isn't affected by orthodontic treatment
The Invisalign Treatment Process
Your First Consultation
At your initial consultation, Dr. Brilliant or Dr. Rothenberg will discuss your orthodontic needs and evaluate whether Invisalign treatment is right for you. Most bite problems can be solved with Invisalign, though there are times when traditional braces, or a combination of braces and aligners, are the best course of action.
Your Custom Treatment Plan
We will use a scanner such as the iTero® digital scanning system to create fast, precise 3D digital images of your teeth. Then we will map out a precise treatment plan, including the exact movements of your teeth and how long your treatment will be. You'll even get to see how your teeth will move and preview your new smile.
Your Invisalign Clear Aligners
Your custom-made aligners will be made of Invisalign's proprietary SmartTrack® material. They're virtually invisible, so most people won't even notice you're wearing them during your teeth straightening.
Wear your Invisalign clear aligners 20 to 22 hours a day for the best results, and take them out only to eat, brush, and floss. Don't forget to visit your general dentist for routine dental cleanings every six months!
Your Progress
As you wear each set of aligners, your teeth will gently and gradually shift into place. We may recommend that you begin wearing a new set of aligners every week and schedule checkups at our Aventura orthodontic office every two to three months.
The length of your treatment depends on your specific case, but most patients start seeing and feeling results in a matter of weeks.
Taking Care of Your New Smile
When your treatment is complete, ask us about a Vivera® retainer. Vivera retainers are custom-made using the same state-of-the-art technology as Invisalign clear aligners.
To learn more about the Invisalign system and all your orthodontic treatment options, please feel free to schedule an appointment at our Aventura orthodontic office. We look forward to meeting you and helping you achieve a smile that's made to move!